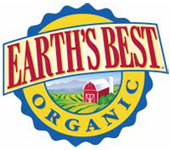 As you know, for the past six months I have partnered with
Earth's Best
to bring you product reviews, product giveaways and to give you a better understanding of the company. Although I no longer will be writing for Earth's Best, this is a company I will forever be faithful to. It has truly been a pleasure to partner with a company whose highest priority is making quality products for the littlest people in our lives.
Just yesterday I was speaking with my sister-in-law. She is a new mom to my beautiful four-month-old nephew. Last month it was discovered that her little guy has a diary allergy and when it came time to start him on cereal, Earth's Best was the recommended brand from her pediatrician. He told her many of the other popular baby food brands out there use dairy fillers and that Earth's Best was her safest bet.
This is just one example of how Earth's Best uses the simplest and purest ingredients in all their products.
I hope you found my posts about Earth's Best both enjoyable and informative. And if you find you have any questions about the company or any of their products please don't hesitate to reach out to me. I can put you in touch with the right person to find the answers you're searching for.
Thank you all for your participation in discussions and giveaways. And don't forget about the
last giveaway
. You still have four days left to enter!
Happy New Year!
*Earth's Best has provided me with product samples for review purposes. All opinions are 100% my own.